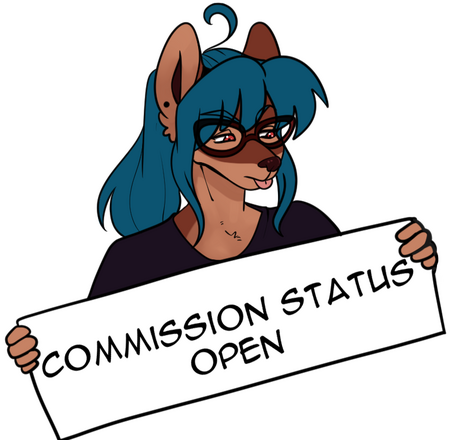 Approximate Turnaround Time: One Month
Sketch Commissions
These commissions start at $40
Prices shown are the base prices

All outfits and poses are accepted

All sketches are mono chromatically shaded

Price is determined by character design complexity

Additional characters start at $30 dollars at this tier, price is subject to character complexity.
---
Colored Sketch Commissions
THESE COMMISSIONS START AT $60
Prices are subject to design complexity.

Additional characters at this tier cost $50, price is also subject to design complexity.

All outfits and poses are accepted.
Short Comics
COMIC PAGES START AT $110 PER PAGE
ADDING COLOR WILL CHANGE THE PRICE TO $200 PER PAGE
Twitch and FFZ Emotes
Emotes are sold in packs of 4 for $30 usd

You can purchase single emotes for $10 usd

reference sheet or image and emote ideas will be required
twitch.tv/crissahavener
twitch.tv/ramorgi
twitch.tv/ahmedz
twitch.tv/ottertalegaming
twitch.tv/itsawinter
---
Telegram Stickers
Stickers are $20 usd

a sticker pack of 3 can be ordered for $50 usd

reference image and sticker idea will be required
Reference Sheets
Starting at $85usd

price increases depending on level of detail asked for

text and images will be requested as far as hair, outfits, and colors.
Full Illustrations
Full illustrations are specific scenes or situations you would like your character depicted in. This is something like a beach scene, or a bedroom scene. I request that you be descriptive in our communication so there will be minimal frustration and complications on both of our parts.
Full illustrations begin at $90 usd

additional characters will be $70 usd

limit of 3 characters per illustration

additonal fees for more complex character designs will be added.
Contact me with your preferred commission type, please remember to include an e-mail where an invoice can be sent, as well as details related to your commission.

Commission Details should include links to character references in addition to what you would like depicted.

As per my TOS in order to purchase a commission from me you must be over 18 years of age.

You may contact me on Discord and Telegram, these are my prefered methods as they are easy for me to keep track of.

Collecting your e-mail is only for the delivery of a paypal invoice so records can be kept.

Please refer to my Terms of SErvice with regards to questions involving content limitations and general rules about the number of free revisions that can be made.
Discord ID: itswinter#5790
Terms of Service & Licensing Agreement

General Terms
I reserve the right to decline any commission for any reason. This includes but is not limited to content that I might be uncomfortable drawing, or contains content that I do not feel I can deliver to the level of competence that I hold myself.
Things that I WILL NOT draw:
Extreme fetishes, including but not limited to:
Knife play
Blood play
Inflation
Hard and Soft Vore
Actual LITERAL zoophilia
Fetishes that involve bodily fluids and excrement.
ABDL content, as I am not comfortable with this content.
Things that are actually illegal, this is stuff like cubs and underage characters, thank you for understanding.
Actual Gore
Things that I am NOT SO GOOD AT drawing:
Robots
Mechanical things
Payment
All payments are processed through PayPal only (USD).
Payment for commissions are due within twenty-four hours of receiving the invoice; invoices will be sent upon the acceptance of the commissioner's application.
All commissions will be sent via invoice. Failure to comply will result in the termination of your commission.
If you want to cancel your commission before the image has been completed and delivered, you are still liable to pay for any level of work already completed as priced by my commission guide.
Works in Progress
Previews of your commission shall be provided upon request.
You can request a maximum of two free major revisions during the sketch phase. Any additional significant revision shall apply a fee of 50% on top of the previous total price.
After the sketch has been completed and next phases have begun, no major revisions shall be allowed.
A minor change to the piece can be requested should it be a needed correction to the accuracy of your character's design and/or anatomy, but nothing major. Major corrections should have already been implemented in the sketch phase, and it is up to my discretion as to what constitutes a major or minor change.
Delivery
After the piece is completed, it will be delivered in a JPEG, PNG, or other standard format, at a resolution that is suitable to your (the commissioner's) needs.
Unless otherwise specifically provided, I (the artist) am under no obligation to provide source files, nor retain an archive of the image for an extended period of time.

Scope
These terms apply to any image, graphic, or other artistic asset created by me (the artist) and delivered to a client (the commissioner). They govern the relationship between the two parties and in no communication or other exchange, shall modify the terms of this Agreement unless agreed to in writing.
Creation
The manner and method of creating any image is solely at the discretion of me (the artist) and the client (the commissioner) has no right to control (the artist's) manner and method of creation. In return, I (the artist) agree to deliver a product that meets the clients specifications.
Rights
All Images and rights relating to them, including copyright and ownership rights in the media in which the Images are stored, remain the sole and exclusive property of me (the Artist). This license provides the Client with the limited right to reproduce, publicly display, and distribute the Images only for the agreed upon terms as set forth in the Client Invoice and signed by both parties. Images used for any purpose not directly related outside of those terms, must be with my (the Artist's) express permission and may include the payment of additional fees, unless otherwise agreed to in writing. Images may contain copyright management information (CMI) at my (the Artist's) discretion in the form of either 1) a copyright notice © and/or 2) other copyright and ownership information embedded in the metadata or elsewhere, unless otherwise agreed to by the Parties. Removing and/or altering such information is prohibited and constitutes a violation of the Digital Millennium Copyright Act (DMCA) and you (the Commissioner) will be responsible to me (the Artist) for any penalties and awards available under that statute.